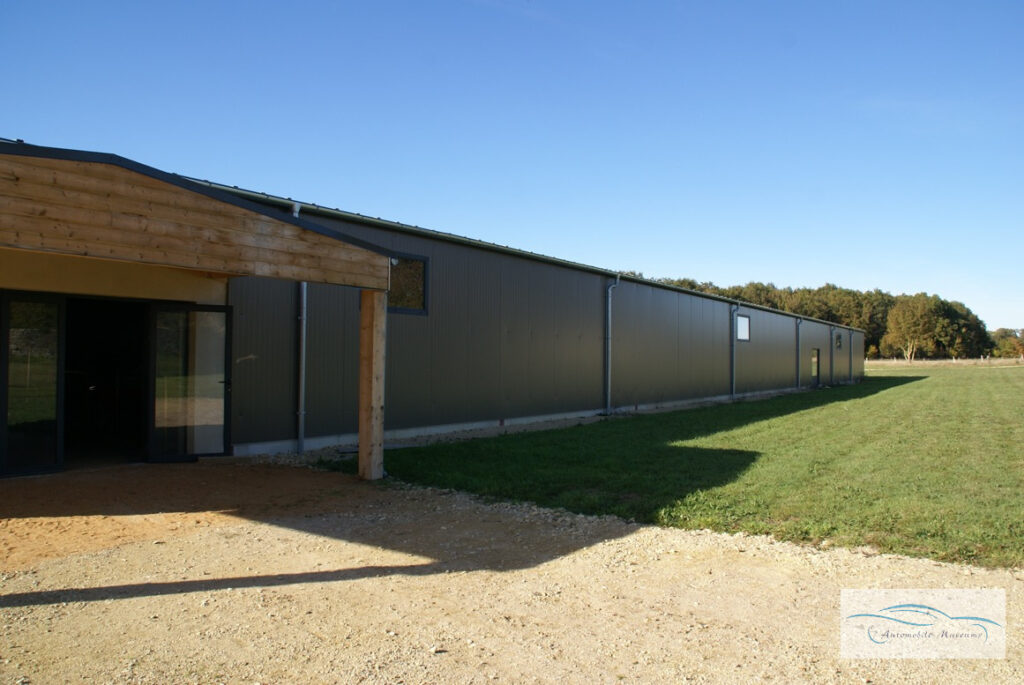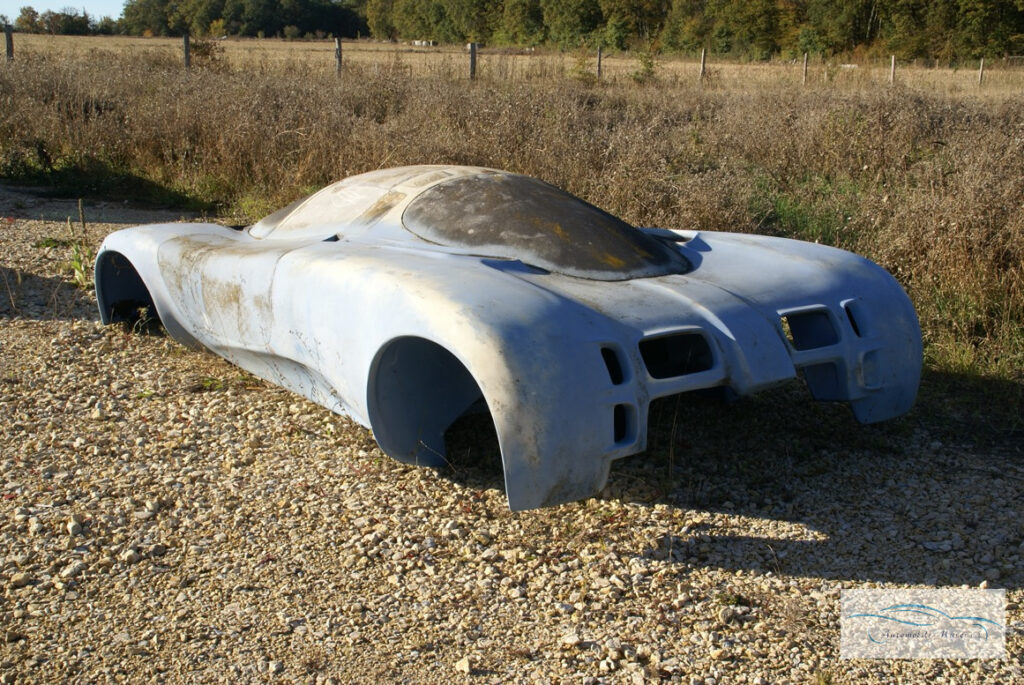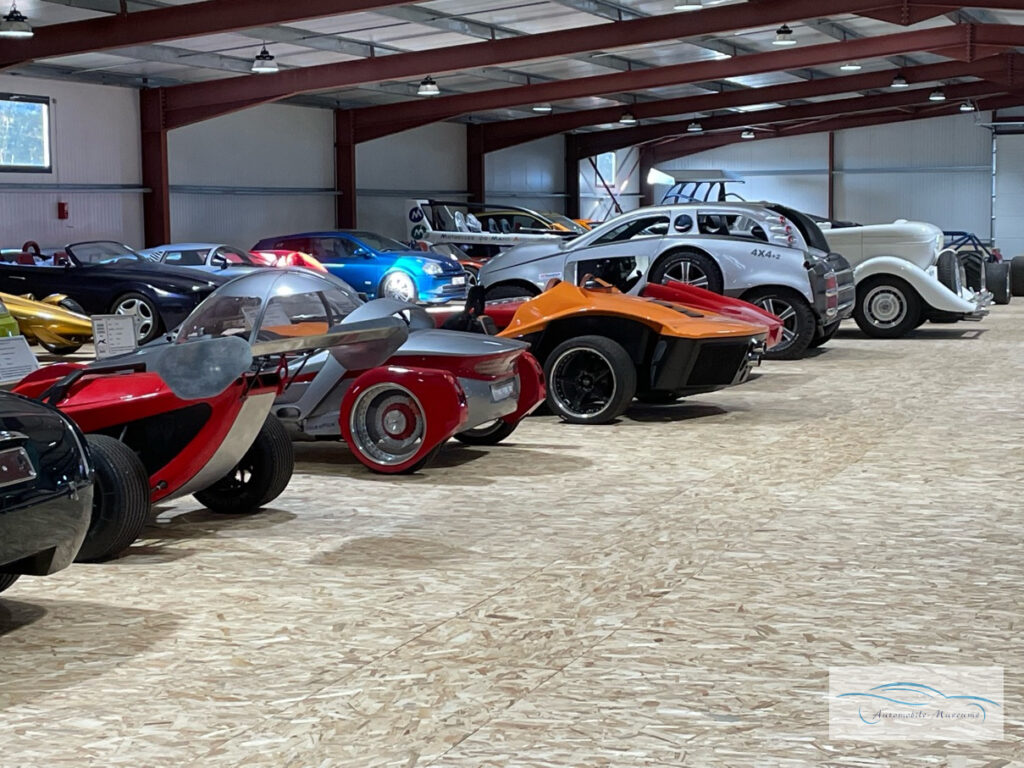 Introduction
This exceptional collection of unique machines has had a somewhat tumultuous existence, with a first museum project that will not succeed, a storage in a shed, and almost disappeared and went to the hammer. Fortunately, Jean-Pierre Nylin, also a collector (his collection is exhibited in the commons of the Vernon Castle), saved the whole and built a specific building to house it, a few hundred meters from his own collection of vintage cars.
The vehicles are highlighted in a large, bright and pleasant building. In addition to cars and motorcycles, the Franco Sbarro Museum also exhibits some molds, helping to understand the creative process. Given the uniqueness of most of the vehicles on display, our visit will be mostly in pictures. On the other hand, because of the variety of projects and the abundance of concepts, I took a thematic approach in the presentation, rather than chronological. Also note that this article mentions only part of the collection, consisting of a hundred vehicles.
My Favorites 
The Franco Sbarro Museum presents practically only unique pieces, so it is not rarity that guides the choice of favorites, rather here aesthetics or vision and passion:
The very unique aspect of the vehicles in the museum
The Lancia IONOS, which could have been a worthy sequel to the Stratos
The Family-Monster-Drag, arguably the most crazy machine in the museum
Orbital wheel motorcycles, still futuristic after more than 30 years
Franco Sbarro
Francesco Zefferino Sbarro, better known as Franco Sbarro, was born on February 27, 1939 in Presicce, Puglia in southern Italy, is a car designer and builder. After studying literature, he moved to Switzerland in 1957, first to Neuchâtel, then to Grandson where he bought a garage. After meeting Georges Filipinetti, boss of a famous Swiss racing team, he became chief mechanic of the team, where he maintained and restored racing cars, and created his first car based on a VW Karmann Ghia.
He started his own company in 1968, designing and building cars. He creates unique models for private or professional customers, carries out style studies and technical studies for many manufacturers, combining body development and engine preparations, builds replicas reinterpreted to his taste of famous cars (BMW 328, Bugatti Royale...) sometimes produced in small series, develops show cars exhibited in major shows and especially in Geneva. He also designs original machines implementing numerous patents.
In 1992, he founded the Espace Sbarro, an original school where students learn automotive techniques, mechanics and bodywork, and realize each year a concept exhibited at the Geneva Motor Show. Several of the models exhibited here are the result of this work.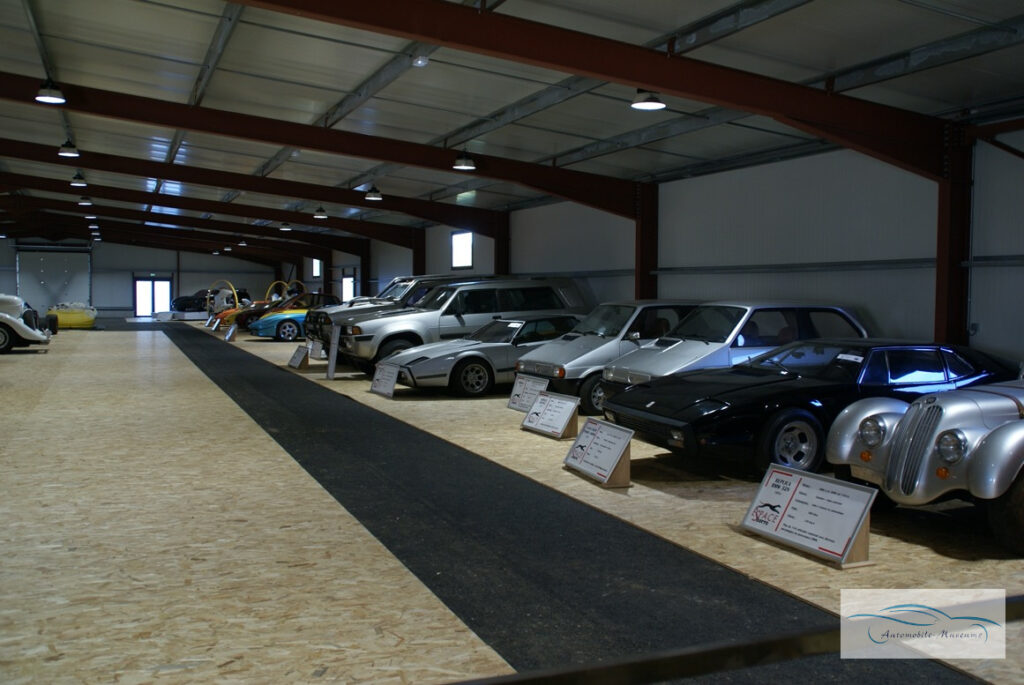 Manufacturer studies
Sbarro has developed several studies for renowned manufacturers. In some cases, these are projects sponsored by manufacturers, to study a concept, test public reactions, exhibit at trade shows… Some studies have led to production models. But Franco Sbarro could also study concepts or push ideas on builders' bases, without solicitation from the latter, and possibly propose them afterwards. A way to show his know-how and develop the relationship. French manufacturers are particularly well represented by several projects on display, but also Alfa Romeo and Lancia. Let us mention some particularly interesting prototypes.
Ionos (1997) in relation to Lancia is a study for a successor model to the mythical Stratos. The line is spectacular, but Sbarro judging the 5-cylinder engine provided by Lancia too weak, he asks for a second and couples them to form an inverted V10 of 4.8L and 400 horsepower. All-wheel drive and a Porsche gearbox complete the package. Double engine also for the Issima, but for Alfa Romeo this time with 2 V6 Alfa 3L for a total power of 440 hp, in a nice spider 2 seats. For Citroën, Sbarro is studying a version of the C3 Pluriel convertible, equipped with a V6 of more than 200 hp.
Crysalis, presented in 1998, is a pretty all-blue roadster, mid-engine and hard retractable roof. On the Renault side, it is a Mégane coupe that Sbarro equips with a V6 in the central rear position, like the R5 Turbo and Clio V6. Another machine that dishevels, the small roadster on Smart base, with its bubble cockpit, and capable of spinning at 180 km / h.
Sponsored projects
Apart from manufacturers, Franco Sbarro was also able to develop concepts for companies, often for promotional purposes, such as the project for Feu Vert (chain of auto centers) to illustrate a catalog and lead internal meetings. Or the 3-seater tray for Delphi.
Sbarro also specialized in convertibles based on minivans. The first was the Espider based on a Renault Espace V6, which was used to transport guests on the Le Mans circuit in 1998. Then there were other projects in the same vein, such as the Proteus for MMA (insurance company) or based on VW Sharan and adapted for paraplegics with Joystick controls. In 2001, Wolfshark embarked a 350 hp Audi V8 in a monocoque chassis reinforced by a tubular hoop.
Replicas
Among the "replicas" that Franco Sbarro developed, there are 2 exhibited here, of quite different minds. The BMW 328 (1974) is a replica quite close to the original but obviously modernized in terms of chassis and mechanics. Sbarro built more than a hundred, with different BMW engines according to the wishes of buyers. That of the museum, with a 4-cylinder 2L and 110 hp flirted with 250 km / h thanks to a contained weight of 900Kg.
The Royal Event is in Sbarro's idea a modern reinterpretation of the Bugatti Royale, but far from the style of the original. The car shows excess and the search for luxury. 2 V8 of 3.5L are coupled to deliver 450 hp, much needed to move the convertible of nearly 2 tons. The engine is presented in the style of the 1920s/30s, with its corked aluminum housings.
Roadsters and convertibles
For car designers, sports cars and especially convertibles are a favorite style exercise, usually leaving more room for creativity than for a sedan or city car. As is often the case, Sbarro develops a beam chassis dressed in fiberglass monocoque. This is the case for Oxalys (the yellow), a pure roadster, no hood, no side windows, just a windshield whose frame extends to support the mirrors. An in-line 6-cylinder engine of more than 300 hp coming from the BMW M5 drives this 900 kg roadster, ensuring breathtaking performance.
Minotor (midnight blue) is built around a shortened BMW 750 chassis and its V12. This time, the car weighs 1600 kg, but with 300 hp, the performance remains very high. Sayta is more compact, more spartan, with a circuit spirit. Lighter (700 kg), it is powered by a Citroën 4-cylinder 1.6L delivering 130hp, enough to provide a lot of pleasure.
Coupes
Coupes are also a popular exercise for designers, so it's no surprise to find several at the Franco Sbarro Museum. In 1973, Sbarro presents SV1 (red) which is a study for safety, but does not forget the performance with a NSU rotary engine with 4 rotors developing 300 hp. SV1 will give birth to Stash which will know several versions body and engine. There is a Targa version (light gray, removable roof, roll bar) equipped with a Mercedes V8 of 6.4L for 286 hp. The famous couturier Pierre Cardin will exhibit at the 1975 Paris Car Show a Stash coupe (black) whose he has redesigned interior.
Isatis and GT12 are more of a supercar breed than a classic coupe. Isatis (blue, 1993) holds a special place, as it is the 1st project developed within the Sbarro school, the names of the students appear under the engine hood. Dual Frame chassis, BMW V12 at the front, only 1350 kg for 300 hp. The interior is also original, with its center console stripped down and the instrumentation grouped in the center of the steering wheel. We can imagine GT12 (grey) on the track of the 24 Hours of Le Mans. Always light (1450kg) with a Mercedes V12 of 6L and 600hp, GT12 is presented in Geneva in 2000 and will win the 1st prize for the centenary of the Swiss show.
City and leisure
But Sbarro was not only interested in sports or luxury cars, he also proposed studies of city cars such as Mandarine (the name gives the color, or vice versa), compact offering 4 seats with a small 3-cylinder 90 hp, or Carville (Carcity, the name describes the function), studied in thermal and electric versions. Unfortunately, the battery technology in 1977 based on lead or cadmium-nickel were too expensive to ensure viability, even if about forty models will be built. Windy is a small leisure car in the spirit of Citroën Méhari or Buggy.
Crazy stuff…
Not sure that Franco Sbarro approves this title, but I have classified here some very special machines, by their style or mechanics. Let's start with the Super-Twelve of 1982, a small compact and light car (800 kg) but powered with a 12-cylinder as its name suggests. Except that this is two 6-cylinder Kawazaki of 1300 cm3 each, placed in the rear central position, claiming a total power of 250 hp. But unlike other developments mentioned above, these 2 engines remain independent, each connected to a rear wheel and retaining its gearbox, the 2 gearboxes being controlled by a single lever. We can imagine a rather delicate driving! The slats of the grille, the gradient paint (signed Andreini, surfboard shaper), the widened rear fenders give the car a lot of character.
The Bi-Moto Scorpius (2000) also has 2 motorcycle engines, 4-cylinder Yamaha 1000 cm3 this time that provide 260 hp. The particularity of the machine is that the body tilts in the bends, like a motorcycle, providing thrills, especially since the 2 passengers of the Scorpius are very close to the asphalt, in a fully stripped cockpit. Much bigger, the Four x Four + Two presented in 2018 weighs 2 tons and has a Porsche 4.5L biturbo engine of 400 hp. The dashboard also comes from Porsche. Particularity, the 2 additional wheels (hence the +2) are in the sides in "normal" mode but can go down electrically and help traction in case of difficulty (mud for example) with their electric motors. The biggest front bar rotates to help climb mounds!
But there is even bigger and crazier with the Family-Monster-Drag, or the dragster in family! The machine, equipped with a V12 Rolls Royce Merlin aircraft of 37 liters (yes, no missing comma !!) developing 2200 hp, weighs 5 tons and can embark 4 passengers (plus the pilot) for acceleration sessions that must blow your hair …
Orbital wheel and Dual Frame chassis
In 1989, Sbarro presented a revolutionary concept with the orbital wheel or hub less wheel. You could say he's reinventing the wheel! The rim that accommodates the tire rotates around a fixed part thanks to a large bearing, and this fixed part receives the suspension elements. The vision is spectacular because the wheel is "empty", which is obviously very unusual. This concept will be applied to streamlined motorcycles, which reinforces their futuristic side, even today more than 30 years after their presentation.
But it was above all Osmos, a large GT equipped with a 350 hp Jaguar V12 that served as a rolling laboratory for development. In 2000, Sbarro presented Aero, another concept of orbital wheel motorcycle, with a sidecar look, big fins, and which could only turn on the right given its particular configuration! The pilot was literally integrated into the fairing of the bike. Although patents have been filed and a company created for its development, Sbarro will lose interest in the orbital wheel.
However, he reused the concept for the Orbitale Hybrid in 2009, a small two-seater roadster with twin rear wheels, which combines combustion engine and electric motor. The 6-cylinder Honda of 1000 cm3, placed at the rear, develops 150 hp. The car also embeds electric motors, housed in the center of the rear wheels in the space freed up by the absence of hub. The small aerodynamic fins at the front cross the empty space in the center of the wheel!
The other great invention patented by Franco Sbarro is the Dual Frame chassis. The idea is to separate the mechanical functions (beam chassis, engine, gearbox, suspensions) and the trim comprising the interior and body in composite materials. Used on many Sbarro concepts, this solution allows cars that are both very rigid and very light. It also allows great freedom in the design of models, which is ideal for prototypes or small series.
Conclusion
The visit to the Franco Sbarro Museum is a series of discoveries, each more amazing than the last, machines that you have probably never seen, or maybe just seen at a car show, since the models presented are practically all unique. We see how prolific, original and nonconformist the man was. For many of these cars, we would have liked to see them one day in production, even in small series. And if you want even more details about the models on display, the other creations of Franco Sbarro or the designer himself, the website "Franco Sbarro, another vision of car" is a goldmine.
The photos on this page belong to Automobile Museums, no right of reproduction without the express permission of the platform.
Museums are living places, and therefore the content or layout may have changed between the publication of this article and your visit. The layout may be different, cars may be absent (overhaul, maintenance, loan…) and new ones may have been joined the exhibition.