Events at the Aventure Peugeot Museum, Sochaux, France
September 17 and 18, 2022
The teams of L'Aventure Peugeot are organising several events for the European Heritage Days 2022 on Saturday 17 September and Sunday 18 September 2022.
For the 2022 Heritage Days, the teams of l'Aventure Peugeot welcome you to the Aventure Peugeot Museum and offer you an exceptional reduced rate, €5 for adults and €3 for young people from 7 to 18 years old.
In parallel, the Terre Blanche Archives Center is open free of charge with an exhibition dedicated to the industrial landscapes of the nineteenth and twentieth centuries.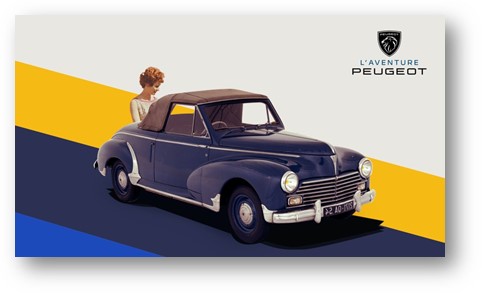 Through period documents (photos, plans…) from its collections, the exhibition traces the evolution of the footprint of factories on our landscapes, and thus looks back on two centuries of history of Peugeot, but also of Citroën and Panhard. In France or abroad, industrial sites, around which life develops and is organized, mark our cities with a characteristic architecture. Note that the exhibition will continue until October 9th. For more information…
The Aventure Peugeot teams also organise guided tours of the Terre Blanche Archives Centre at a special rate of €20. Visits of about 1h30 will be from 10h to 16h30. Reservation required in advance on the Online Ticket Office.
Classic Scholarship
Throughout the weekend, the traditional Classic Stock Exchange will be open, and the Classic spare parts service will offer for sale many parts from old stocks but also remanufactured parts, tires from the Michelin Classic range, accessories and technical documentation. But you can also hunt for spare parts, accessories or technical documentation from independent exhibitors.
The scholarship will be open from 8 a.m. to 6 p.m. on Saturdays, and from 8 a.m. to 4 p.m. on Sundays.
Vintage car rides with "LES VIEUX VOLANTS"
Finally, with the complicity of the City of Sochaux, the Club des Vieux Volants Franc-Comtois will be present on Sunday, September 18 from 2 pm to 5 pm on the forecourt of the Museum and will offer visitors rides in vintage cars, to discover the Sochalien heritage. A participation of 5 € per ride and per person will be requested for fuel costs (maximum of 2 to 3 people per car depending on the model). Another nice way to celebrate heritage!