Exhibition at the National Automobile Museum, Mulhouse – France
From April 29 to November 6, 2022
Opened in 1982, the National Automobile Museum – Schlumpf Collection celebrates its 40th anniversary in 2022. On this occasion, the Museum organizes the exhibition Iconiques Mécaniques which will present to the public new vehicles taken out of its reserves. The exhibition will also take a look at the collection and restoration of automobiles.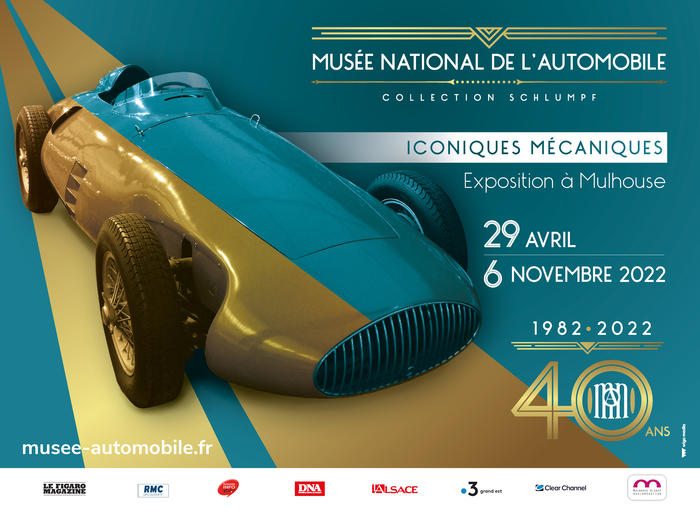 To do this, the temporary exhibition space is expanded from 1000 to 1300m², and another space of 1000m² within the museum is also dedicated to the exhibition. A specific route in 3 stages has been set up, allowing the visitor to discover these cars, but also other collectibles and restoration techniques.
As an introduction to the visit, 2 exceptional but very opposite pieces are presented: on the one hand a Hotchkiss chassis from 1923 in very poor condition, associated with a virtual reality application, and on the other hand a copy of Bugatti Royale started during the Schlumpf era and completed in the 1990s by the Museum's restoration services.
The first part of the visit itself presents objects collected by Fritz Schlumpf, and the process of creating the collection. The second time is devoted to cars out of the reserves and presented on 3 themes: pioneering brands with mainly cars at the end of19th / early20th, famous brands in their time but almost all disappeared (Darracq, Lorraine-Dietrich, Rochet-Schneider, Panhard & Levassor or Clément Bayard), the large luxury sedans emblematic of their countries: Delahaye (France), Isotta Fraschini (Italy), Rolls-Royce (England), Hispano-Suiza (Spain), Mercedes-Benz (Germany), and at the other end of the automotive spectrum the popular cars that have democratized the use of the car (Citroën, Fiat, Renault or Volkswagen). Finally, the3rd part of the visit allows you to discover the evolution of the place, initially spinning factory, then setting for the collections before being transformed into a museum and then into a real place of cultural life.
The visit of the exhibition Iconiques Mécaniques is included in the price of the entrance ticket to the National Automobile Museum.