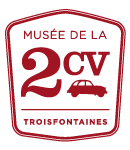 The 2CV Museum is, as its name suggests, dedicated to the Citroen 2 CV, certainly one of the most popular and mythical models of French car production. Created in 1998, the Museum moved in 2011 to part of the former premises of the Vallérysthal crystal factory in Troisfontaines in Moselle. It is managed and animated by a dynamic association created in 1988 with the aim of promoting and maintaining the 2 CV. The team has recently further developed its nearly 3000 m² building to expand the collection.
Cars
The 2 CV was produced from 1948 to 1990 in more than 7 million copies, in France as well as in many other countries. It has undergone many evolutions, but also an impressive amount of variants by Citroën. And many craftsmen or genius handymen have adapted the 2 CV to all kinds of terrains and missions. The Museum of the 2 CV now presents a hundred vehicles representative of this diversity. There are naturally the derivatives of the manufacturer: Dyane, Ami 6/8, Mehari, Tangara…. You will discover foreign productions such as the Baby Brousse (Ivory Coast) or the Citroneta (Chile). Particularity and deliberate choice, the cars are exposed "in their juice", still presenting the stigmas (and proof) of their use!
Besides cars
Because of its simplicity, the 2 CV has lent itself to all kinds of transformations exposed here. We discover chenillettes, military vehicles, 6 wheels … and even plane or boat! The decoration is dedicated to the 2 CV, with posters, pubs, illustrations, paintings … The museum has also created scenarios (workshop, camping, etc.). A café area has been set up as well as a cinema area for the projection of advertising films. A large car park welcomes visitors.
Practical information
Opening
All year round on Saturdays from 14:00 to 17:00
In July, open every Saturday and Sunday from 14:00 to 17:00
In August, open from Tuesday to Sunday from 14:00 to 17:00
Rates
The visit is free, but you can at the exit contribute to the pot that allows the association to make the museum live, be generous!
Groups: contact the museum before by email or phone
Discover more automobile Museums around the world…