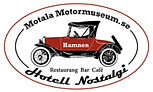 The Motala Automobile Museum is located west of Stockholm, on the shores of Lake Vättern, sweden's2nd largest in size. It exhibits about 300 vehicles (all in working order) on an area of 2400 m², with many reconstructions and staging of the cars.
Cars at the Motala Automobile Museum
The Motala Automobile Museum exhibits a wide range of cars, a motorized tricycle from the early20th century, more recent sports cars such as a Konigsegg, a Ferrari Testarossa, a Lamborghini Countach, a Porsche 356 or a Daimler limousine from 1961 or a dragster! The scenarios, such as the reconstruction of a garage from the 20s and 30s enhance the visit.
Besides cars
The museum also has a beautiful collection of 2 wheels, motorcycles, mopeds and scooters, including several Italian nuggets: MV Agusta, Ducati, Moto Guzzi… More original, a museum of photography coexists with motorized machines, presenting a beautiful collection that allows to follow the evolution of photography and development since the origins. Right next to the museum is Sweden's largest aquarium, including numerous pools on the aquatic fauna of Lake Vättern. The museum's restaurant offers drinks, cakes and sandwiches, and in the evening dinner with views of the lake.
Practical information of the Motala Automobile Museum
Website: https://motormuseum.wixsite.com/motormuseum/home
Opening
Open all year round
| | |
| --- | --- |
| Monday to Saturday | from 08:00 to 18:00 |
| Sunday | from 10:00 to 16:00 |
Discover more automobile Museums around the world…