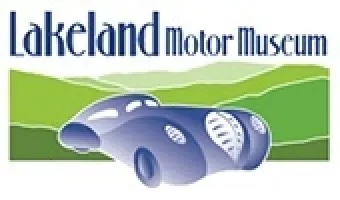 The Lakeland Motor Museum is housed in a converted mill in the heart of the Lake District, minutes from Lake Windermere. It exhibits more than 30,000 objects that tell the story of road transport during the 20th century, on 2 or 4 wheels.
Cars
The cars at the Lakeland Motor Museum allow the visitor to explore the evolution of cars throughout the 20th century. The collection is eclectic with many English (Austin, Bentley, Ford, Jaguar, MG, Triumph, TVR …), foreign models very varied in their styles and eras (Buick, Citroën, De Dion Bouton, Ford T). There are also some curiosities such as micro-cars Messerschmitt or Peel, Amphicar, De Lorean, Trabant … Not to be missed (among others), the oldest TVR still in existence (1952), a superb blue 4.5L Bentley that belonged to Donald Campbell, a classic Jaguar XK 140 from 1955. Several cars are staged with mannequins and the appropriate decoration. A building is also reserved for life-size replicas of the Sir Malcolm and Donald Campbell speed machines.
Besides cars
The decoration uses many signs, metal plates, as well as the reproduction of shops (bookstore, fashion, toys …) and a garage from the 1930s. On the 2-wheeled motorized side, a hundred scooters and motorcycles retrace the history of British brands, but also present motorcycles from other countries, not to mention the section dedicated to the famous Tourist Trophy of the Isle of Man. The bicycle collection dates back to the 19th century, and also features sometimes strange pedal machines. Always pedaled, the museum also exhibits about fifty pedal cars from all eras. The museum shop offers a very large selection of gifts and souvenirs: toys and miniatures, educational and fun games, puzzles, books, DVDs…
Café Ambio, next to the museum and by the river, also has an outdoor terrace. The café is open all day for breakfast, lunch and afternoon tea and offers locally sourced homemade dishes, scones and cakes.
Practical information
Website: https://www.lakelandmotormuseum.co.uk/
Opening
Rates
| | |
| --- | --- |
| Adults | £10.00 |
| Youth (5 to 15 years old) | £6.00 |
| Children (under 5 years old) | Free |
| Families (2 adults, up to 3 children) | £29.00 |
| Free parking | |
Discover more automobile Museums around the world…