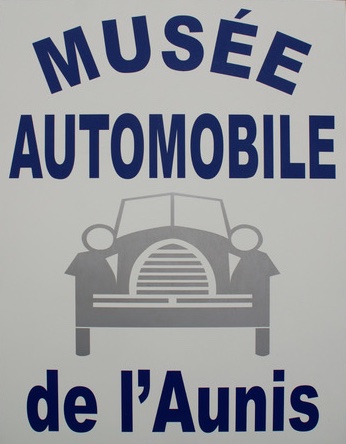 Gilles Gaudissart exhibits at the Musée automobile de l'Aunis his collection of vintage cars as well as some cars from other collectors. If he started collecting cars in the early 1990s, his Automobile Museum of Ciré d'Aunis opened in 2018, before moving in 2022 a few kilometers to a new building of 3550 sqm built specifically. The new venue opened in July 2022 and took the name of Musée automobile de l'Aunis. With a large building, bright and well lit by LED ramps, cars are spaced apart, lined up as in streets. You can see the cars from all angles, including the interior and even the engine for some with open hoods.
The cars of the Automobile Museum of Aunis
The collection of the Aunis Automobile Museum now presents a hundred cars, almost all rolling. Often recovered "in their juice", the cars have been meticulously restored by their new owner-collector, mechanics, bodywork, paint, interior and upholstery. An island in the center exhibits a dozen cars awaiting restoration, which gives the visitor a little idea of the work to be done to get the cars in their final state of exhibition! For each car, a sign (in French and English) informs about the main features.
Cars from 1900 to 1945
Gilles Gaudissart is mainly interested in pre-war vintage cars, with a predilection for French brands. There are of course Citroën, Peugeot and Renault: first of all the Traction 7C 1936, the first old car acquired by Gilles Gaudissart and still in the collection, a magnificent Citroën Type C 5 CV lemon yellow, another Citroën C2 strangely bodied, a Peugeot 301 Spider from 1935 looking like a Hot-Rod, a rare 402 Roadster 1937, a Renault AG-1, better known as the "Taxi de la Marne", or a Renault Celtaquatre from 1935. The disappeared brands are widely represented, recalling the strength of the French automotive industry of that time. Some are still well known, such as De Dion Bouton, Delage, Delahaye, Hotchkiss, Panhard & Levassor, Talbot, others less known like Aries, Berliet (better known for its trucks), La Licorne, le Zèbre, Matford, Mathis, Unic…
Among the most prestigious cars exhibited at the Aunis Automobile Museum are the Delage DS Limousine (1932) or the Talbot Lago T26 (1948). Another rarity in very good condition, a 1935 Georges Irat roadster that can be seen as a French Morgan … before Morgan. There are also a few foreign cars: a legendary Ford T, and more prestigious a BMW 327/28 or a 1933 Rolls Royce 20/25 with aluminum bodywork.
Post-war cars (1945-1970)
The collection of the Aunis Automobile Museum offers more recent cars, with a higher proportion of foreign cars. Visitors will find popular French cars such as the Citroën 2 CV, the Renault Juvaquatre and 4 CV (in Sport version) or the Simca 5 as well as elegant Simca Plein Ciel (coupé) and Week End (cabriolet) or the Facellia of Facel Vega. A Citroën SM has also just joined the collection.
Very desirable foreign cars complete the panorama: Alfa Romeo Giuletta Spider (1965), Mercedes 190 SL Cabriolet (1960), Lancia Aurelia B20 GT (1952), Ford Mustang Fastback (1965), Sunbeam Alpine Cabriolet (1966)… We also discover a regional curiosity, the Moustiquette, an unlicensed car built in Charente. The story ends with some Youngtimers, Lancia Beta Spider, Peugeot 504 coupe or 304 cabriolet.
Next to cars
A fire truck and a few motorcycles complete the exhibition. Several mannequins in period costumes, many original enamelled plaques on the wall and ceiling, road signs and some old gas pumps decorate the place. For 2023, a street with its shops will be set up in the back of the museum, with at one end a garage from the 1920s/1930s, with its two BP petrol pumps, and at the other end of the street a petrol station from the 1950s… The Aunis Automobile Museum also has a complete restoration and maintenance workshop, with lift and paint booth. A convivial area, with coffee and cold drinks, allows a break. A small shop offers books, miniatures and textile items. The place is accessible to disabled. Ample free parking.
Practical information about the Aunis Automobile Museum
Website (in French): www.museeautomobiledelaunis.com
Opening
From May 1st to September 30, every afternoon from 2 p.m. to 7 p.m., except Tuesday and Wednesday
Opening possible the rest of the year for groups by appointment.
Gathering in the parking lot on the 3rd Sunday of each month
Rates
| | |
| --- | --- |
| Adults | 8,00€ |
| Children (under 12 years old) | Free |
| Groups (more than 15 people) | 7,00€ |
| Guided tour for groups on request | |
Good ideas from Automobile Museums
The Aunis Automobile Museum is about 20 km from Rochefort, known, among other things, for its Corderie Royale and its Demoiselles (at the cinema). It is a good place to stay, especially since we recommend l'Esprit du 8, a superb guest house. More info about Rochefort and The Esprit du 8 here…
The photos on this page belong to Automobile-Museums, no use or reproduction is allowed without the prior written consent of the owner.
Discover more automobile Museums around the world…