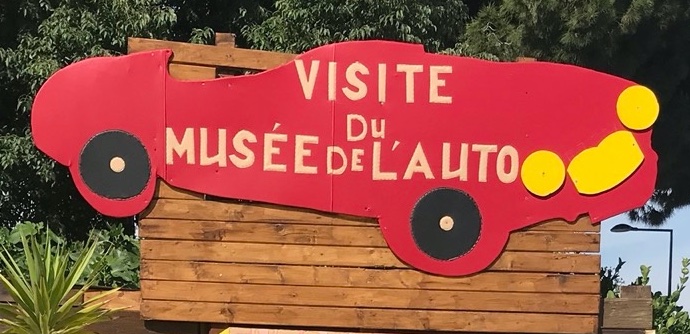 Also known as the Tacot Museum, the Aigues-Mortes Auto Museum exhibits the collection of Albert, a long-time enthusiast of automobiles and antique objects. The cars are restored and maintained by the owner, a carbody worker and saddler by profession, and his brother mechanic.
Cars
The Auto Museum permanently exhibits between 15 and 20 cars. Albert and his brother regularly buy cars that they restore and then join the collection, taking the place of other cars that have been sold. The collection therefore evolves regularly according to transactions. If he has a preference for pre-war cars, Albert also exhibits some more recent cars. During our visit, there was a replica of DS 21 Chapron cabriolet. The car had been built by a coachbuilder with the molds of a Chapron model, but then recovered in poor condition. 2 good years of work were necessary to find the parts and put it back in perfect working order. Albert highlights a personal achievement, a kind of synthesis of his passions: a 2CV bodied in Torpédo, tap-ground aluminum dashboard and the entire rear of the body padded in red leather.
2 beautiful Torpedo Renault, KJ1 from 1922 and NN from 1925 are close to a Peugeot 201 Coupé from 1934, a Simca Fiat Balilla from 1936 and a Rosengart LR4 from 1937. The latter is a licensed construction of an Austin Seven, and links with its post-war cousins, the 1958 Austin Type A coupe and a Morris Minor convertible. If the Minor dates from 1968, it is a model designed during the war and was introduced in 1948. At that time, there was no facelift every 2 years! Depending on when you visit, you may discover other models, but always in the same spirit. In general, all cars are in excellent condition and ready to hit the road, which they sometimes do for local events or rentals (ceremonies, weddings, film shoots…).
Besides cars
In addition to cars, the museum also exhibits some bicycles and "Poiriers", tricycles designed for the wounded after the 1st World War. As in many automotive museums, the decoration gives pride of place to automobilia, plates, signs, oil cans, tools and accessories. Several hundred old everyday objects complete the exhibition, from cameras, telephones, sewing machines, radios, lamps and toys.
Among the curiosities, mini torpedo dressed in leather of different sizes, decorative objects that Albert makes himself. A few parking spaces on the edge of the canal, but the museum is less than a 10-minute walk from the city walls and parking lots.
Practical information
Opening
| | |
| --- | --- |
| Every day | 9am-12:30 et 2pm-7:30pm |
Rates
No fixed rate announced, we advise you to validate the price of the visit upon arrival.
Free Parking
The photos on this page belong to Automobile-Museums, no use or reproduction is allowed without written permission from the owner.
Discover more automobile Museums around the world…