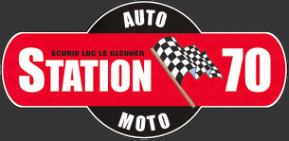 Station 70, also known as the Nationale 13 Museum, is a small museum gathering the collection of an enthusiast, Luc Legleuher. Located in Normandy in the village of Osmanville, on the old N13, it is near the landing beaches, and a few km from Bayeux. Former car and especially motorcycle racer, Luc has gathered for many years a huge collection of old objects related to the road: bicycles, mopeds, motorcycles, toys and of course some cars.
Cars
Only around fifteen cars at Station 70, the space missing to exhibit more. Let us mention for the oldest a beautiful Renault Juvaquatre and a Peugeot 404 tow truck, as well as a small "barchetta" for circuit and hill climbs, decorated like the Lotus JPS of the 1970s, black with gold lines. In addition several youngtimers that are becoming fashionable again, including Renault 4, 6, 9, 16, 18 or some Peugeot. A small workshop allows maintaining the vehicles on site.
Besides cars
In addition to cars, Station 70 exhibits 3 main categories of objects: 2 wheels, toys and various objects related to automobile. Many bikes of all eras, and different styles hang from the ceiling. A few tandems, and a strangeness, a 3-wheeler with a large steering wheel and gear lever. There is also an extensive collection of mopeds, which will remind the over 50s of their youth. Motobecane, Peugeot and Solex, flagship brands in the category in France are widely represented.
Several racing bikes recall Luc's sporting past, alongside venerable ancients. Among the beautiful parts, a BMW R60 like those of the French police, a Honda 750/Four, a real star of the road in its time, and the Motobecane of the first races on tracks.
The 1st floor of the building is entirely devoted to toys, including several very large dioramas, countryside and road landscape, race starting grid, electric train or model of the D-Day, which was obvious here. Meticulously elaborated, they will delight young and adults. There are also miniatures of different sizes, and a beautiful collection of pedal cars.
Don't miss a stop at the toilet dedicated to F1 with photos, models and pedal cars!
Finally, the decoration gives pride of place to objects related to the automobile, enamelled plates, oil cans, tools, gas pumps, not to mention many photos, posters and drawings. A bar with room and terrace allows a short break during or after the visit. Easy parking along the road.
Practical Information
Opening
| | |
| --- | --- |
| Every day, including bank holidays | 2 pm – 8 pm |
Fares
| | |
| --- | --- |
| Adults, youths (+12 years old) | 5,00 € |
| Child (-12 years old) | Free |
| Free Parking | |
The photos on this page belong to Automobile-Museums, no use or reproduction is allowed without written permission from the owner.
Discover more automobile Museums around the world…