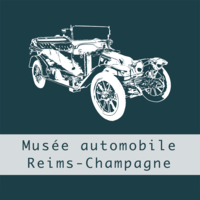 The Reims-Champagne Automobile Museum was created in the early 1970s by Philippe Charbonneaux, under the name of Centre Historique de l'Automobile Française to exhibit his collection. Philippe Charbonneaux was one of the most famous French industrial designers of the 20th century. Active in many fields, we owe him the design of many iconic cars such as the1st Chevrolet Corvette, the Delahaye 235, or the Renault R8 and R16. At his death, the SCAR association (Salon des Collections Automobiles Rémois) was formed to take over and perpetuate the museum.
The cars of the Reims-Champagne Automobile Museum
Philippe Charbonneaux's initial collection has been enriched over the years, also presenting some cars belonging to the members of the association. In total there are 160 cars on display, representative of the history of the automobile and its industrial development, throughout the20th century. One of the emblematic models is the SCAR built near Reims at the beginning of the20th century (hence also the name of the association, a nod to this local brand). Other models include the unmissable Ford T, the DS, Simca 1000, Dauphine, Fiat 500 or Porsche 356 and 928.
Besides cars
The Reims-Champagne Automobile Museum also presents a beautiful collection of motorcycles and 2 wheels, commercial vehicles (fire trucks and advertising vehicles of the Tour de France), and on the toy side a vast collection of pedal cars and more than 7000 miniatures. You will also discover many enamelled plates. Finally, the shop offers visitors postcards, reproductions of posters, specialized books and many other items…
Practical information of the Reims-Champagne Automobile Museum
Contact form on the museum's website
Website : https://www.musee-automobile-reims-champagne.com/en/home/
Follow Reims-Champagne automobile Museum on Facebook
Opening
Open every day except January 1st and December 25th, Closed weekly on Tuesdays
| | |
| --- | --- |
| Summer hours (from 01/05 to 31/10) | 10am-12pm and 2pm-6pm |
| Winter hours (from 01/11 to 30/04) | 10am-12pm and 2pm-5pm |
Rates
| | |
| --- | --- |
| Adults | 10,00€ |
| Students (under 26 years old) and Children (over 10 years old) | 7,50€ |
| Children (6 to 10 years old) and School children | 4,00€ |
| Children (under 6 years old) | Free |
| Family package (2 adults + 2 children 6-10 years old) | 25,00€ |
| Groups (from 20 people), per person | 7,50€ |
Discover more automobile Museums around the world…